Last updated: 01.05.11

The Haras de Florys – the best or nothing
I am delighted to welcome you to the Haras de Florys website. The site is newly built but I hope that over the coming months (or years! ) it will grow, enriched by traditional information: broodmares, stallions, production, winnings, together with documents which support my somewhat unconventional vision of breeding and equally to tell the story, happy or otherwise, of the famous ponies of the stud.

Stud advertising in the 2007 Monneron catalogue (Monneron website):
[ Download - Size *.pdf - 3.12mo ]

Stud advertising in the 2008 Monneron catalogue (Monneron website):
[
Download
- Size *.pdf - 3.37mo ]
Stud advertising in the 2009 Monneron catalogue (Monneron website):
[
Download
- Size *.pdf - 1.52mo ]
An image of myself
I've always believed that a stud of horses or ponies is strongly influenced by the personality of its creator.
In any case, I wanted to create a stud that was like me: I have always strived for excellence and to push beyond my limits. I am eternally dissatisfied. Not one of my broodmares pleases me completely, despite the fact that I chose them because they have more positive points than the majority of their rivals. To my knowledge, not one stallion in Europe embodies perfection in my eyes, nor is sufficiently to my taste, although I am sure that one will exist one day, as some have already existed in Germany. I think that my great strength, aside from my critical disposition and my permanent search for the elite, is the severity of my scrutiny of my own ponies. No blind love for my foals, goodbye to a positive viewpoint. It is the only way to progress. Self-complacency achieves nothing. This coldness of judgment and my insatiable search for more and more quality in no way prevents me from being enthusiastic about the quality of the jump of a young pony at liberty, the competitiveness of a more experienced pony, the progeny of a stallion or the 'presence' of a broodmare. Exactly the opposite, and anything else would be a crying shame.
A calling
For my stud, I want it all, but I won't wait for anything. Nothing is impossible – I dreamed that one day my life as a breeder would give me the opportunity to see one of my ponies, perhaps a stallion, take part in the European Championships. Incredibly however, the dream came true far more quickly than I could ever have imagined for one of the first home-bred ponies, an approved stallion no less - and it should equally have concerned his full brother born a year before him.
 Other younger ponies show a potential of at least the equivalent and Jimmerdor de Florys, team bronze medal winner in 2006, will no doubt not be the only one to meet my expectations in this way. My goal is therefore substantially higher: it is now to one day have two ponies on the French team… or elsewhere… in the same year and, being mad, to achieve 'an individual European podium place' – in theory at least I'm lucky enough to have years ahead of me to attempt to bring it off.
Nevertheless, you can't take anything for-granted as nothing is more cruel than breeding: the crossing of your dreams can't take place because the mare won't take the frozen semen of the stallion best suited to her; the most beautiful filly you have ever bred dies at the stud you had driven her mother to; the young broodmare, so promising, full sister to one of the leading stallions in Europe, has lost her life due to a perforation caused during a scan which should have confirmed she was ovulating to be followed by an insemination by Voltaire; your best broodmare, the one that was completely irreplaceable, the one you couldn't lose at any price, dies needlessly whilst foaling without leaving a daughter, at least, not one of her class. Breeding keeps you humble: today you are in the limelight, but what about tomorrow? The hopes that suddenly lead nowhere? Disappointing results? Relegated to oblivion? What counts is to persevere and to carry on. But breeding is also the joy of discovering that a foal has inherited the sparkle and dynamism of his father, that a yearling loose jumps with an extraordinary respect systematically passed on by its mother, no matter who the father, that a home-bred performance stallion never ceases to confirm your beliefs, outing after outing… Breeding is brilliant. It is an insatiable quest, a new beginning year after year, an artist's work, a gamble on the future, the ability to visualise original and well thought out crossings, long and incessantly thought out and constantly reconsidered right up until the final decision, which is often risky, to breed the best and if possible the most beautiful.
Breeding, especially in the horse world of which the pony breeder must be considered part, is also about passionate encounters, exchanges of points of view, the sharing and defence of one's convictions, the discovery of other cultures, enlightening ways of doing and conceiving things, whilst making sure that they don't draw you away from the path upon which you set out.
A delicate balance
My breeding is a bit of an extravagance, at times weakening and strengthening a personal balancing act that is difficult to achieve, between family, work and other activities. The organisation and time management necessary leave me vulnerable whilst at the same time sustaining me. It is part of my reason for living and is an essential recompense for my moods and my psychological torments. My breeding is my folly, my passion, in the true sense of the word. It is also one of the reasons why I don't allow visits; it is my haven, my secret garden, and my intimacy. It is perhaps also why I sell very few of my ponies. I have largely loaned them up until now, when a certain financial logic has pushed me to leasing the finest for the top classes. I started very young from nothing, with nothing – except my parents always by my side to support me (but without helping me financially) and the paddocks that my paternal grandfather let me use on the family land (see the section 'Biography').

The crossbred at all costs
I had never been attracted by the pure-breds for my stud. I recognise that the New Forest, that is to say Dutch, constitutes a good base, that the Welsh, notably the little Welsh Mountain with their remarkable proportions and their almost unique correlation between strength/blood and bone/elegance, is the best pony for crossing in the world, but, although often full of quality, it is not bred for show jumping and too much sorting out is necessary to land on the right subject that might prove to be that rare pearl. The Connemara is unrivalled.  Of course, there are exceptions, but this breed, which are in the main grey or dun, unfriendly, lacking chic and lightness, never really grabbed me.  It was decidedly not what I was looking for as a children's sport pony. What I'm expressing here are evidently generalisations and of course there are numerous exceptions to the rule. If Dexter Leam Pondi possessed the movement of certain of his brothers, had a more conciliatory character, and was lighter in type with more blood, was black and rounded his back more when jumping, I think he would be my ideal stallion!
The only two Connemara ponies that I had at the house were Ever de Garenne (by Ashfield Aengus and Antilope du Ruère by Island Earl and Ganty Della by Carna Bobby), bought at six months old for her maternal lines (Ira de Garenne),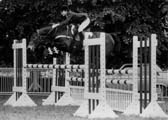 Ira de Garenne
who I sold on having bred a filly from her by Hand In Glove (who herself has given me two approved stallions: Mon Nantano de Florys, Grand Prix dressage and eventing pony, and Never Glove de Florys, 2007 Vice-Champion of the 6 year old D ponies); as well as the pony of my great friend Elisabeth de Linarès, Upsy Daisy (by Boden Park Joey and Jacinte de l'Aulne by Clonkeehan Auratum) – from where the Français de Selle stallion Galienny d'Haryns, performer in D1 Elite, whose brother was the 6 year old D Vice-Champion Henny Joe d'Haryns, and Iolisca d'Haryns (the dam of Najisco) all three of which were born at home on behalf of the two of us.
Human encounters
Elisabeth is the only person in France in the pony world with whom I share my vision of breeding and who regularly feeds my thoughts. Our discussions are endless, our exchanges passionate and I appreciate it enormously! She joined me at l'Eperon several years ago, initially to support me on the pony editorial, and then seized the opportunity to involve herself in horse related topics. Our opinions aren't always identical, which keeps life interesting, but we come together on a lot of projects. We also share other things than our passion for ponies, even if the distance between us often obscures these and our full diaries don't allow us to meet very often. How, on this subject, can I fail to mention my neighbour and friend Geneviève Matthews and her husband Chris who look after my ponies in my absence and who know them almost as well as I do, who watch them grow opposite their house and who following their sporting careers with emotion? There are also those meetings that I never actually made ! One of these would, I feel, have been particularly interesting: that with the father of the German Riding Pony (Poney de Selle Allemande) for dressage, Hans-Georg Bönniger – whose 'B' stud has produced the best stallions in the discipline across the Rhine (Derano Gold, Derano B, Golden Dancer, Dornick B…) and some of whose lines have been used in the stud of Josef Wilbers (the FS stud from which come FS Don't Worry, FS Golden Moonlight, FS Pour l'Amour, FS Champion de Luxe…) one of the biggest German successes at present.  I think that Mr Bönniger the horseman was one of a kind, like his stud.  Whilst the stud was taken on by his son-in-law Ludwig Stassen, his only daughter, the witty Trudi Bjorling, with whom I have had the opportunity over the last few years to correspond by email, today lives in Sweden. Evidently, my correspondents, friends, contacts and informants throughout a number of European countries allow me to keep an open mind, continually alert and ready to listen, and prevent me from falling back on my success.

My stud, my folly
My stud, as small as it is (I breed sometimes two, often three, rarely four, very exceptionally five foals per year), is my folly. I adore ponies, breeding and the selection, I love them painfully and that is why one day I might stop breeding, maybe tomorrow, maybe when I die, maybe never… it is a proof that I exist, an extension of me, a cry for help, a lifebelt thrown to the sea to which I cling. 
Come and help save me!

Guillaume LEVESQUE



Back up.